This weekend was my best friends 25th Birtday! After rushing around all Saturday morning I finally made it to Fredericksburg to spend the day with her! She decided that she wanted a Fishy Pedicure. I have read about these before and seen them on the news. It is illegal in most states and the place we went too (which has two other locations in Alexandria and Crystal City) are the only place around who leaglly has it. The owener of the salon has a patent on Dr. Fishy.
These little fish feed on dead skin! This was first discovered in the middle east. It is used to treat skin diseases. These fish orignially come from Turkey.
So this is what she wanted to do for her Birthday, so of course I went along. We went to Woodbridge VA to Yvonne's Day Spa and Salon. We got 15 minutes with the fish and full spa pedicure afterwards. It was definately a wild experience. Meagan couldn't keep her feet in the water and I kept kicking the fish. I got used it towards the end. It was wierd. The girl who went with us said it felt like a kiss from the fish, but I think it was a little more then a kiss. It didn't hurt, but it was just wierd. We all agreed to do it again though!
And now for some pictures!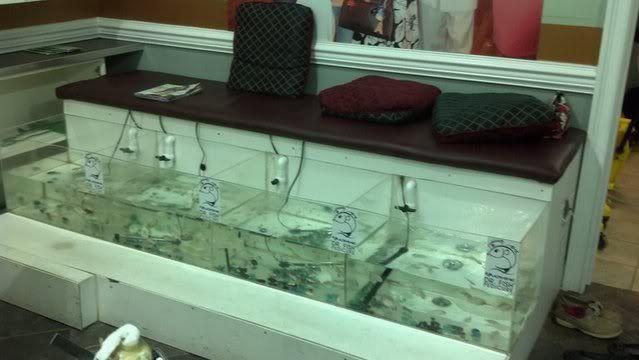 And of course I had to make her a cake!
It was a great Birthday weekend for her! :)