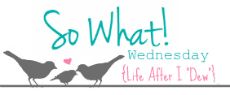 This week I am saying so what to......
My house is a disaster! We are moving so I finally have an excuse!
I am not all packed up, I will get it done just in time like I always do!
I HATE my online study group for my class, atleast I don't have to do the work alone!
I was late to EVERYTHING yesterday, I still got to each place safely!
I don't want to move anymore, it's just a change in scenery which may be just the thing I need!
I gained all my weight back, I like to eat when I am stressed and boy am I stressed, I'll get back to dieting once we move, in the mean time yummy sweets will comfort me.
My walking cast sounds like a sqeaker toy when I walk, atleast it protects my foot that I shouldn't have been walking on since May, but atleast we have an answer now to my pain!
I am supposed to be working at the moment, I don't smoke so I am taking my blog break!