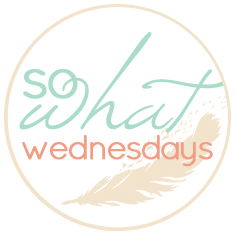 Today I am linking up with the lovely Shannon over at
L.A.I.D
for another edition of So What Wednesday!Today I am saying "So What" to:
The fact I missed my "10 Things on Tuesday" post yesterday.....just kidding, I am bummed about that, I look forward to that one for some reason!
That I eat chicken pretty much 6-7 nights out of the week. I am suppose to be sticking with lean protein and limiting red meat. Soooooo chicken is what it is usually!
I took back stuff to Target that I have been meaning to return since Christmas. Since they were gifts and they didn't have receipts, it probably worked out since they were most likely on sale when they were bought. $40 on a target gift card? Yeah I won't complain.
I spent that gift card last night! Yup it didn't last long!
This weekend is our tax free weekend on school supplies and clothes. I really do have intentions on going out to save the 5.3% sales tax. But part of me wonders how crazy it will get and if it will be worth the frustration and anxiety from all those people. At least we just need a book bag and school supplies from Target. I finished clothes shopping already.
I went to Giant to use my free eggs coupon and all the free eggs were gone! Go figure! Now I need eggs!
Kenny says it amazes him the measures that I go to save a buck! Ummmm those bucks add up! He then reminds me that I probably spend that in gas going that extra mile. Do boys always feel a need to rain on our parades?!?
So what are you saying "So What" to this Wensday?!