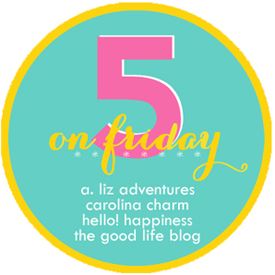 Today I am linking up with
The Good Life
for five things on Friday!
1. I think the most obvious and most important fact of the day is that it's FRIDAY! This means it's the weekend! Tomorrow is my Mom's birthday so we will be celebrating the afternoon with her! In the morning we have cheerleading. Sunday is the PTA Fall Festival so we are looking forward to that! It should be a pretty easy weekend and hopefully relaxing! I need it after this week I had!
2. Tonight I have my first Scentsy party since.......ummmm...... like at least a year. I usually just collect orders and have done some basket parties and vendor fairs. I spent forever last night going through all my scents from the last four seasons and getting it all organized. I am still missing like 4 of the testers. Bummer! I am excited for the party though! It's local to me which is really good to meet new people and establish some connections in my community since all my clients are now over an hour away. Also I am excited to share all the new stuff including the all the holiday warmers!
3. I have been the supervisor in the office this week. I am filling in for my boss since she and a few others were out for training. Let's just say it's been a busy week. It's the end of closeout so everyone had last minute things that needed to be done. I have a general idea how to do most things and was trained on some things before she left. It did cause a little tension in the office though because I am the youngest and have been here less time then the rest. I could tell there was hurt feelings and attitudes. Oh well! I also realized how many mistakes some of these people make. I make mistakes from time to time, no ones perfect, but when they have been here 20 plus years they shouldn't be making the mistakes they are. They are lucky I am only temporary. Let's just leave it at that.
4. I was given my verbal briefing on the possibilities of a furlough next weekend for the federal government. I have a feeling it won't happen, but I am just not sure. This group in Congress right now isn't budging over things. I wish they would realize that not all of the feds are making six figures. Unless you are on the top of the GS scale, which most of us are not, we are all going paycheck to paycheck. Furloughing us would devastate a lot of people, including myself, especially since there is certainty when we would return to work. Yeah, the time off would be nice, but not when it's unpaid.
5. I am excited for October! I have a couple of fun things planned and have more things I want to fit in, like a trip to the pumpkin patch! As I have said a million and one times before, this is my all time favorite year!
Hope everyone has a good weekend!!!!