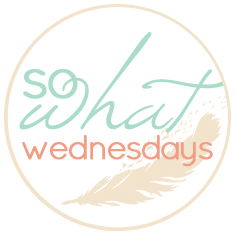 Today I am linking up with the lovely Shannon over at
L.A.I.D
for another edition of
So What Wednesday!
Today I am saying "So What" to:
Things have been going great, but the past two days I feel like I have a little black cloud over my head making me feel so sad. Oh Poo!
I only lost 3 ounces this week! I am still celebrating 3 ounces gone and not gained!
My paycheck finally appreared in my account yesterday morning. Paycheck delays are not fun especially when you are counting on it on Friday to pay the bills that are due and to cover the checks you have written!
I guess the doctor's office I had a pretty high bill for wasn't impressed with me sending $50 a month to them. They sent me to collections instead. Jerks!
Every night I get in bed exhausted and ready to go to bed on time, but somehow I still manage to get lost in the book I am reading. I read the first one in two sittings and this one is almost done. There is a third to the series waiting for me when I finish the last 75 pages of this one tonight!
Somehow all the books I read fall under the "young adult" catagory! Embarassing! Haha!
I lost the last week of my Giant coupons. This week included a free thing of Ragu and also the $5 off of $50. I feel like I have lost something really special! I have been using these weekly coupons for the past 7 weeks! Each week I get my $5 off and then two free things! Yes, I am talking free things like cheese, eggs, oreos, chips ahoy cookies, Viva paper towels, paper plates, a pack of water, and the list goes on an on. I feel like I have a special relationship with Giant because of it and now just like that I feel like it's gone! How could I lose those coupons?!
Kenny doesn't understand my need for coupons and to buy things on sale. He wasn't even impressed that I saved $15 at Target the other night! What's wrong with men?!? PS: Don't even get me started on my need to use ebates!
What are you saying "so what" to this Wednesday??