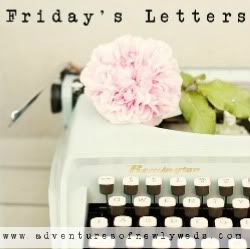 Let's see where to start!
Dear Hailey,
I am sorry you didn't get to do your pumpkin run at school today. I am glad they postponed it until Monday when it won't be so wet and rainy. I really didn't want you to have to walk around all wet and cold today from running in the wet grass. But I know you were excited, so I am sure you were disapointed when you woke up and found out it was canceled. We will have lots of fun tonight and this weekend to make up for it!
Dear Meagan,
I can't wait to spend the evening with you at the Halloween carnival! Wahoo!
Dear October,
You are my favorite month, can you slow down just a little?!?
Dear
Heather
,
Happy Birthday! I hope your day and weekend are amazing!
Dear
Kaley
,
Happy it's almost your Birthday. You and my Dad are Birthday twins!
Dear Miss Jaime,
I can't wait to see you this weekend and squeeze you! I can't wait to take a bunch of pictures of you and Hailey this weekend at the pumpkin patch!
Dear Self,
You are doing so good with the goals you set forth. Life has it's ups and downs and I know you are really stressed with worrying about things, but you need to pull yourself out of the funk and you really are working on it! Keep it up and once you start feeling better about yourself then everything will all fall into place!