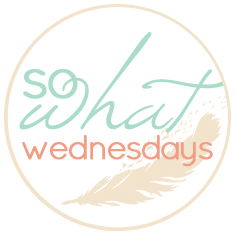 Today I am linking up with Shannon over at
L.A.I.D
for another edition of So What Wednesday!
This week I am saying So What! to.......
If our camping trip got canceled due to Kenny's overtime project. Hailey and I will spend the day swimming instead!
If all I do is obsess over food and nutrition facts at the moment, I used to pretty much know the calorie count and weight watcher point of almost every food during high school! That was 8 years ago, I need to catch up!
That I just realized I have been out of school for 8 years now. GASP!
That I have been getting quotes from some of the daycares near by for infant prices. I have no clue if we can afford to have a baby and it really is upsetting me.
I feel like alot of people I know are stay at home moms and I hate that I am jealous. Not because I just don't want to work, but because I can't do the things they do and have the quailty time they have with their kids. I feel left out and like I am not as good of mom.
I have put in two applications this week for jobs in my agency, now it's time to play the waiting game. I will take what I can get now, but I hope to move closer to home soon.
That my finances are a mess. The harder I try to save even a penny and get a head the slightest bit, the more bills and problems come up.
What are you saying "so what" to this week?