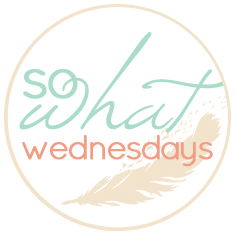 Today I am linking up with Shannon over at
L.A.I.D
for another edition of So What Wednesday!
This week I am saying So What! to.......
Today is dragging by! Yesterday felt like this week was going to fly by, but I guess that decided to not happen anymore.
Settlement was scheduled for this Friday for the other house. They kind of just called to let me know when to show up. Umm sure I guess I can schedule a day off in a moments notice. Grrrrr

I always bounce my legs. And with my ankle still screwed up, I am worried I am doing more damage to it. I honestly have no clue I am doing it until it really starts to hurt or someone yells at me to stop. I have been working so hard on breaking that habit!

I have been waiting for a day that I could run by and grab my lab slip from the doctors office. Of course they are closed on Saturdays and close at 5pm on weekdays. So I have had it sitting there since April. I was specifically told to come by the office front desk and they would have it for me. I finally got a chance to go Friday and they couldn't find it. And then I was told to go to the other building and their lab would write it up for me. So all along I could of gone to their lab for the order which is open 6 days a week and extended hours. Needless to say, my vitamin D is crazy low again and he refilled my prescription I have been with out since the beginning of April. Thanks Doc!

I bough little single serving packs of Sour Patch kids. But I bring four of them with me to lunch. I mean there is only 5 stupid little kids in each one! What a tease!

I wrote my brother a happy Birthday text message and left him a card and gift card. Do you think I would hear anything back or a simple thanks to my text. Nope. And after I got off the phone with my Mom and told her how I felt, I got a text like an hour later, "thanks". But she said she never said anything to him about it. It's just funny how I sent the text at 5:30am and the return text comes at 11:30pm after I had spoken to her. Hmmmmm

It makes me really sad the issues my brother and I have. I have tried really hard to put them behind us and to reconnect with him, but he would rather be an ass to me all the time. What ever!

I have to drive the van home again today. I do drive a big lifted Jeep, but I still get nervous driving a huge passenger van. If I wreak the Jeep, I am out of luck on a way to work. If I wreak the van, 13 people are out of luck.