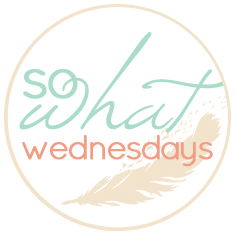 Today I am linking up with Shannon over at
L.A.I.D
for another edition of So What Wednesday!
This week I am saying So What! to.......
These stupid allergies or cold.....not sure which one it is! Finally after 3 days my sore ears and itchy throat are starting to go away!

Two weeks ago I came home to water in my basement and last night I came home to a lizard ripped a part in the foyer thanks to the cat! Bad Rosie! What happened to coming home to relaxation and quiet?! Or even better dinner on the table! A girl can dream right!
Last Thursday I came home after a long day at work. Baked some chicken in the oven, peeled potatoes and made homemade mashed potatoes, made some gravy, cooked some corn. Had it all done and ready for the family dinner and Kenny said I "clearly made dinner just for me" since he didn't want chicken and refused to eat it. So instead he opened a can of Pepsi and sat in the living room watching TV while Hailey and I ate dinner. Cue argument NOW!
The above turned into a huge argument over dinners. He is home on Thursday's now so I have to make him dinner, Thursday through Saturday. The problem with this is he doesn't like anything! He said he is tired of tacos and spaghetti. BUT he doesn't like chicken, doesn't like pork, doesn't like beef unless it's ground beef, doesn't eat vegetables, won't eat rice unless it's fried from the Japanese Steak House. Oh doesn't eat fish! Ummmm sooooo what am I supposed to fix?!?
I have so much work I need to do here, but I felt that hanging back up all my pictures should be priority. I mean, who can work if their cubical isn't exactly right!
I didn't lose weight this week, but I did fix the scale! Wahoo! Hailey is back to 40lbs and not 110!
I am supposed to be bringing my lunch every day, but this is the third day "I forgot it" when I actually never packed it. But I have been making coffee every morning and bringing muffins for breakfast!
Speaking of lunch, that sounds good right about now! Time for you to share what you are saying "so what" to this week!