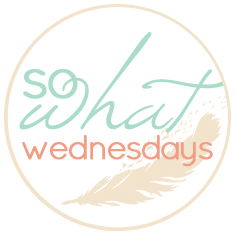 Today I am linking up with Shannon over at
L.A.I.D
for another edition of So What Wednesday!
This week I am saying So What! to.......
The fact that I have been over an hour late the past two mornings to work. There have been really bad accidents on our major highway, including some fatalities. Compared to what these people have been through, there is no complaints on my end!

I am so not ready for my Scentsy event tomorrow night! I just hope it's a good turnout!

I check my bills and credit card balances daily. I guess I am just hoping that one day they will magically disappear? Each day I huff at the outcomes! I guess there is nothing quick about a three year plan!

I was so tired that I declared early bed time last night! I was in bed by 8:30.......and didn't fall asleep until after midnight! Ugh!

The closer I get to graduating and my finals being completed the more nervous anxiety I have! I don't know if it's because I'm just nervous, or that its nervous excitement. I really can't tell.

My birthday is in one week! It's no big deal.....hehe I just lied! I can't help but be super excited!

If I don't write my thoughts in my calender, than I think about everything I have to do or should be doing obsessively! I don't think I have ever committed so much energy to a calender in all my life! Thank you May Books!

I ate another carton of tomatoes last night with my dinner. I just can't help myself with those little tiny tomatoes.

I ran into the grocery store for JUST lunchables yesterday and ended up spending $20! Did I mention on my way out of the lunchable aisle I decided last night would be a perfect night for a glass of wine!

That this is my third post today. I can't help it, Wednesday's and Friday's have link ups that I like and I can't choose just one!