This past weekend turned out pretty great. It was the weekend Kenny had been looking forward to since November. It was his North East Super Meet (NESM5) for his Colorado truck group. The turn out was awesome and the weather was amazing!
We started our journey bright and early Friday morning. Actually let me retract that last statement since it was 4:30 when we left the house and was no where near bright. The trip took about four hours and then we met up at Raush Creek Off Road park with about 10 other trucks. We aired down and hit the trails. We spent about 8 hours out on the trails, some were pretty difficult, but the Jeep got through them no problem. We had the top down and the weather was perfect! After we left the park we drove about 45 minutes south to the hotel where the group had a hotel block. We sat around and talked until after midnight, so it had def been a long day!
Pictures from Friday:
Saturday we got up early and headed to a really nice park. This is where the "meet" part of it was. The trucks all set up for truck shows and then the group started grilling some food. Lunch was served then they did some awards. Kenny came home with the Highest Truck award and the overall Best in Show by 1 vote. He was surprised and happy. Believe me, I am sure that just boosted his ego a little more than he needed! Ha! Afterwards we all went back to the hotel and hung out outside until about 1am. Then went inside and fell asleep!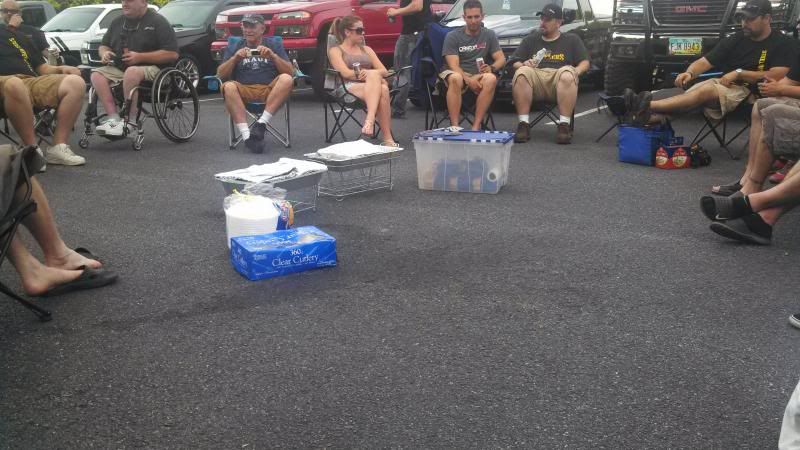 Ya know, just the cops that happened to pull me over! I was the only one who got in trouble this whole weekend! Ugh! Luckily it was just a warning for "Careless Driving" for having passengers not secured or in his words "titanicing" out my roof.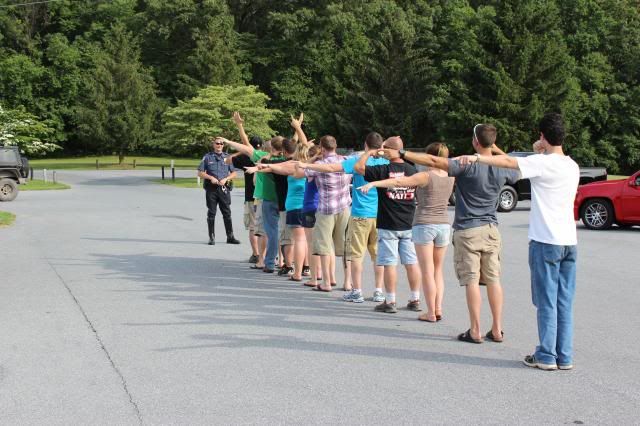 He was cool though! He even pretended to do a group sobriety test with us, which none of us had been drinking, so they were just being silly!
Making sure Kenny's truck was under 30" and he lucked out at 29.75"
On Sunday we got up and packed then headed out. Our game plan was to go to Hershey park, but that ended up not being in our budget. I was kind of bummed since I had never been, but I didn't have the money for it either. We did stop at Chocolate World which was free to go into. It had a little ride that showed you how chocolate was made. It took like 15 minutes, but it was pretty cool! Then after we finished it dropped us into the gift store where I picked out something special for Hailey. Then we headed on home. After our four hour trip home, we switched cars and headed off to get Hailey and Pixie in Waldorf, which is an hour and a half away. We grabbed them and headed home and got there around 11pm. I was supposed to be to work on Monday, but thought I should take a day off to recuperate.
And here is my only picture from Sunday!
Hope you had a great weekend also!!!!