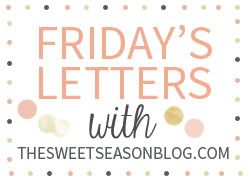 Dear Self, You really need to stop worrying and stressing over things. You are giving yourself anxiety and keeping yourself awake at night. These things are out of your control so you just need to go with the flow. Easier said then done right?!
Dear Hailey, I know you are super excited for Easter, I hope I.....I mean the Easter Bunny doesn't disappoint.
Dear Hubby, please please pleaseeeee take the trash and recycling to the dump! It's been weeks and those boxes are driving me nuts!
Dear Target, I am making my final attempt today to find the Furreal Pony for Hailey's Easter basket. Please have it! Last night you let me down once again!
Dear School, Why did you have to have so much work due this weekend? I mean, come on, can't you see it's a holiday weekend! A 10 page paper due tomorrow night and an exam due Sunday is not nice at all!
Dear People, There's a lot of things I am tired of, point blank, people suck even ones I thought were better than that.
Dear VA House, I hope to give you a good clean and work on the basement while I'm off on Tuesday. Please help me along! Maybe clean a little yourself! Wouldn't that be nice?!?
Dear MD House, I am coming to sign papers again for the bank today. Hopefully it will be smooth rolling from here. I want you gone! G.O.N.E! Please let this be a sign that we are heading in the right direction.
Dear Weekend, I have waited forever for you to get here, now please take your time!
Hope everyone has a great weekend!