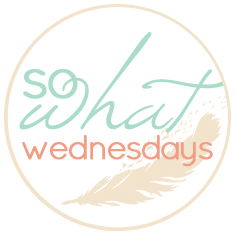 Today I am linking up with Shannon at
"L.A.I.D"
for another round of "So What! Wednesday!"
This week I am saying SO WHAT to:
The fact I have still yet to do a load of laundry that I have had piled on my bedroom floor for the last week!
The fact that I need to do the dishes still! I did do one load yesterday, so they are not overflowing on the counter, but they will be if I don't do a load tonight!

The fact that I woke up this morning to find the brand new gallon of milk I just bought on Monday night is almost gone. Hubby must of helped himself to one or two HUGE glasses of chocolate milk last night when he gets home!

And since we are on the subject of Kenny munching up all my food, let's not forget to add the fact that he ate almost all my darn Thin Mints! I only got 5 out of there! And to make matters worse he doesn't even like mint! He said he was bored......well don't eat my $4 box of cookies that actually had my name written all over it!!!!! Ughhhhh! And he thought it was funny I was getting bent out of shape over cookies!

I still haven't logged on to my new classes. Since it is my lunch break now, I must do that right after this!

I have been in meetings after meetings for the past three days. I got to work this morning and there was nothing on my calendar and now there is three things that have popped up in the last hour so I will be in meetings from 1pm to 3:30pm now. Oh well, it will make the day go by fast!
Still haven't drank any water, not even a sip, even though I made that my goal for this week just a couple hours ago! I guess I better get on that too!

And lastly.......I forgot my lunch once again!
So that is what I am saying a big fat SO WHAT to! How about you?!