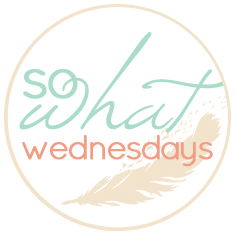 Today I am linking up with Shannon at
"L.A.I.D"
for another round of "So What! Wednesday!"
This week I am saying SO WHAT to:
To the fact that instead of cleaning last night, we went and picked out an Easter dress and got dinner! We also added haircuts to our night of fun! We were too tired when we got home, so we can just clean tonight.
The dishes are STILL not done! I said we will get to them tonightttt!
I am kind of overwhelmed with school work. One of the classes I am taking is my Capstone class for psychology to basically help wrap everything I learned and did into a portfolio and make sure I am ready to graduate practice what I have learned in real life. Peace of cake right? No way! It seems more demanding then any class I have taken yet and that is not a good sign! Especially when it's your last semester!
So what if the lady who cut my hair last night burned my neck.......I have my hair in a bob like normal and she decided to take electric clippers to "neaten up the lines". I have never had anyone do that before and I hope I never have anyone do that again because now I have a red raised line that goes all the way across the back of my neck and hurts......okay, so now that I am thinking about it, this isn't so much a "so what" more of a "what the hell!". Thank you $9 hair cut!
To the fact that soccer is supposed to start in early April and I have yet to hear ANYTHING! In fact, I was starting to wonder if they got her registration I dropped off in January. They sure didn't waste time cashing my check. When I sent a email about it last week, I was told I would hear something this Friday. It would be nice to be able to plan better, ya know?! It's not like they have to schedule games since this is more scrimmage and skills soccer for beginners! I guess I will wait until Friday to hear something! Urgh!
Okay I am going to limit myself to five today, but I am sure I can go on longer and longer!
What are you saying "SO WHAT!" to today?