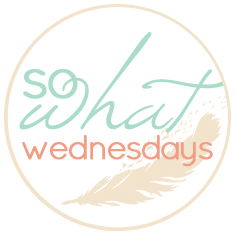 Today I am linking up with Shannon at
"L.A.I.D"
for another round of "So What! Wednesday!"
This week I am saying SO WHAT to:
That I gained a little this week, it happens!
That I have eaten two cartons of tomatoes in two days. Mmmmm
That I spend a lot of time "shopping" online and adding stuff to my cart, but never buy anything. It's kind of like window shopping and wishful thinking in one!
That I don't get paid until Friday and as of Friday afternoon I will be broke again!
That we were told at work that before we interview another person for a job, that we will have some practice interviews to learn what we should and should not be doing. Apparently 3 out of 5 candidates for the boss position thought we were hostile. Ha!
That I have a really bad headache! I think after this post I am going to go downstairs and get a bagel and coffee. Maybe I'm hungry and then the caffeine will help! (Sounds like a great excuse to get a bagel and coffee to me!)
I realized Monday night that I hadn't talked to Kenny in almost 48 hours. We weren't mad at each other or anything! He went to bed at like 11pm on Saturday was up and out to work at 4am then didn't get home until 1:30am on Monday and then I was up and out at 5am for work and of course he was at work when I got home. I mean we always say goodbye to each other, but besides that neither of us had called one another and he just doesn't do the whole texting thing usually. As you can tell we are strong communicators! Ha!
I have a ton of cleaning to do! And last night I didn't do anything on my list! I will get to it when I am ready I guess!