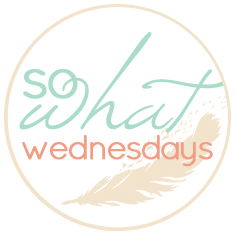 Today I am linking up with Shannon at
"L.A.I.D"
for another round of "So What! Wednesday!"
This week I am saying SO WHAT to:
The fact I can barely keep my eyes open sitting here this morning at work. I really want to be in my nice, warm, comfy bed. But I guess I will settle for this cold office and hard chair.
Hailey choose to go to Grammy's house an extra day instead of coming to work with me this morning. But do you blame her? Who wants to get up at 4:30am and sit in a stuffy building all day?!? Plus with not bringing her, I didn't have to drive to work, I got to ride the vanpool.

We have no food in the house and I had good intentions on stopping at Foodlion on my way home, but I left some coupons at home, so I am going to have to wait until tomorrow! I'm not paying full price when I could save an extra $2!

My dishes are FINALLY clean and all done! Now I am super anal about them! Plus is it silly to be so proud of an empty sink when that's how it is supposed to be anyway?!?

I was supposed to clean on my days off Monday and Tuesday, but instead I did nothing really. Now I am supposed to clean tonight and tomorrow.......we will see how well that goes!

I have a birthday party in a couple weeks and all the good gifts are taken! I mean come on, it's three weeks away! It's not like I waited last minute! Now I will get stuck buying the lame gifts this year haha.
Kenny asked if we had plans this weekend and before I could answer he said "to bad if we do, you guys want to come over on Saturday?" and he invited both brothers and their girl friends over. But believe me, he won't be the one helping clean anything. Luckily, besides a birthday party on Saturday morning that I knew he wasn't going to, we had nothing. Grrrr men!

Speaking of hubby, he FINALLY took down the Christmas lights yesterday. Now I don't have to see those stupid gutter clips every time I look at the house. Better late then never I guess! PS: I've mentioned it every weekend since Christmas!
I just realized I need a vacation NOW! Somewhere warm and sunny! These are the things I am saying "So What!" to, what are you saying it to this week?!