Everyone always asks what I want for Christmas or for a holiday and usually I shrug because I never know exactly what to say or ask for. I decided that I would make a wish list as a *if money wasn't any issue* list! So here is a start!
A Sephora gift card! I spend so much time on that site looking at all the pretty things! A gift card would let me be able to get some things without feeling bad about spending the money!
Since watching Jacklyn Hill's youtube tutorials and seeing how she gets her flawless facial makeup, I have been convinced that I need this and a nice brush to go with it!
Because no matter how much you think you have everything blended (from eyes to face) the beauty blender can help you out more then you think. I have read about other brands and they just don't compare to the original beauty blender. Plus you need the cleaner!
This is actually the first bronzer I have completely used up! I love the tones and the shimmer that it adds. It is light and very subtle! I use this almost every day! It's great for contouring and shaping out your face!
I wouldn't put this at the top of my list, but this is something I would like. Matte colors are great for getting both subtle to dramatic looks. I use foxy all the time for highlighting my brow bone and under my eyes. Crave and Faint would be good for defining and adding depth to your lids when you do a smokey look once blended it. They would be nice when combined with other palettes and shades.
Then of course there is the new Naked 3. I use the Naked 2 almost every day (you know, when I feel like doing makeup at 4:30am) and love it! I have followed so many tutorials for daytime and both night time looks for both the nakeds. What I love about this one is the rosey tones in the shadows, also there is no repeats, these are all brand new shades. The first two nakeds had a few repeats in the palette. I didn't mind because I love the shimmery colors, but I saw a lot of people complain about it in reviews. The naked palettes have the perfect mix of both shimmer and matte to create any look you are shooting for! Can't wait to get this!
I am lucky enough not to need concealer very often, but I really would love to try this one out! Plus I am a huge fan of anything benefit! I have never been disappointed!
This looks amazing! I have seen it in person, but haven't tried it! I think it would be awesome for giving the perfect rosey complexion on your cheeks and it can be used on your lips also! My skin tone does really good with corals, so I love how it has the coral color, rose, and pearl color! Plus I am sure it would blend nicely with those Beauty Blenders from above!
A diamond candle! I have been asking for one of these for a while now! Come on, a ring and a candle together?! Who wouldn't love that! Though now that I am looking at the site, I don't know many flavors right now that I would be interested in. Apparently they are sold out of a lot!
This is on my DREAM list! For the past few years I have said how much I really would love a nice camera. I do like my Nikon CoolPix P520, but I feel so limited. I regret not biting the bullet and getting the d3200 at that time, but I also didn't have the money that they were running at the time. I really hope that I will be able to save up in the next couple years and finally get the d5200 or I would even settle for the d3200. I want to be able to use different lenses and features. I look at my pictures and my friends pictures and there is a huge difference in clarity and the way they can get action pictures. I actually helped my cousin pick this camera out on black Friday! One day!
This is a cool gadget my cousin found for her camera! The Eye-Fi card! One of my biggest flaws is that I take pictures, but it takes me forever to sit and finally get them to the computer. This card sends them directly to your smart phones, tablets, and your computer! Talk about awesome!
I received this jacket in all black two years! I love it and wear it all winter long! It's perfect for me since it's light, but still keeps me warm! I love this one because it has that pop of pink! I would not mind having another one of these!
I have never had a really nice flat iron, so this year I did ask for this from Kenny! I have heard so much nice things about the CHI brand and after reading the reviews I figured this was a great one to look into! Plus it didn't hurt that it was pretty!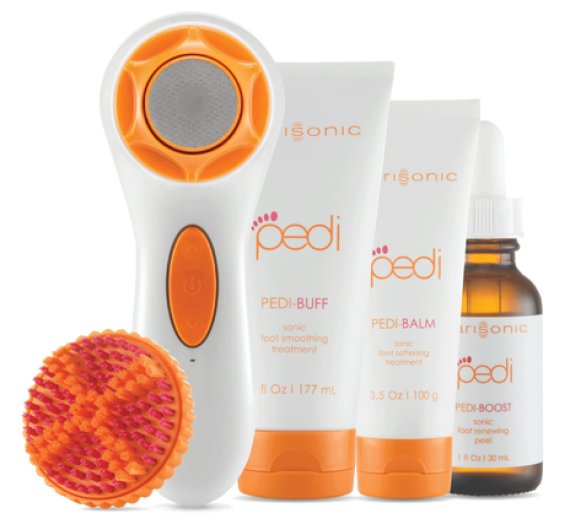 I have a clarisonic that I got for Christmas last year and I have been in LOVE since! This guy came out recently and is suppose to be a dream for our feet! My poor feet! They get neglected and I am hard on them! I only had one pedi last summer, because the time and money is always an issue. This would be great for in the shower! My feet would be soooooo happy!
So these are some things I would love to have *maybe one day*! I would also like a nice journal book for me to write in, just to jot down my thoughts for the day! I love reading so B&N gift cards are always exciting to me! I'm crafty so I love stamping and card making so I would love a gift card for AC Moore or Michaels! I also would never turn down jewelry or anything sparkly or pretty! I mentioned to Kenny several times how it would be nice to have a bracelet from Hailey that she could give me charms for different occasions, not necessarily a pandora or anything expensive, but you know, something nice! He usually just shrugs that idea off! Also I love perfume and stuff that smells nice! I would love a nice scarf or a pair of gloves! Picture frames also make me very happy! Also a massage, facial, or a hair appointment would be very very nice!
To be honest, I pretty much love everything and am pretty easy to please! And as you can see I clearly dream a lot! Ha!
So if money wasn't an issue, what would you ask for? What are some of your favorite things?!